Super 6 is a free to play football prediction game, that offers players the chance to win big bonuses each week. This involves selecting the exact outcomes of a select number of football matches each weekend, with the matches typically chosen from the Premier league.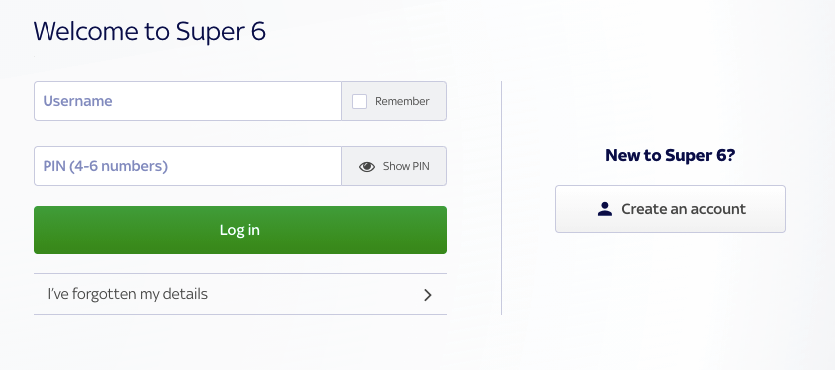 The Super 6 launched back in 2008, following popularity behind the Soccer Saturday program that has continued to take place to this day. This runs over Saturday, with updates and live scores of the games taking place. This competition gives a unique opportunity for players to win big, from what is a completely free game and opportunity for people to be the pundit.
Players are provided with six different 3pm kick off games and must enter exact score outcomes from each game. It also occasionally takes place midweek, depending on what games are scheduled. The Super 6 is also usually on offer from the opening weekend of the season in August, through to the last round on the final weekend in May. This of course subject to changing dates in the football calendar.
SUPER 6 + Completely Free Betting Offers
| | |
| --- | --- |
| TOP FREE BETTING COMPETITIONS | JACKPOT |
| 1. SKY SPORTS SUPER 6 | £250,000 |
| 2. ITV 7 PICK 7 | £100,000 |
| 3. FOOTIE 5 BY THE POOLS | £25,000 |
| 4. SKY SPORTS SELECTOR | £1,000 |
| 5. BETFAIR BEAT THE DROP | £1000 |
| 6. PADDY POWER BEAT THE DROP | £1000 |
| 7. CORAL CORRECT 4 | £50 |
Super 6 Competition Reviews
How do you play the Super 6?
This free to play bonus game is easy to play and also can be accessed by all over the age of 18 and living in the UK, Channel Islands and the Isle of Man. In order to play, you must register for the Super 6 through a Sky Bet account. Once you have signed up, you need to click to join the Super 6 and then you are ready to start looking to pick up this unbeatable bonus and for free!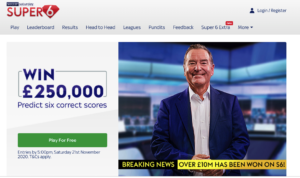 It is such a quick and easy process, where you can sign in with your Sky Bet User ID and pin and then you can start predicting the matches each week. You need to log in from the top part of the page and also must submit your predictions prior to the opening match kicking off. It can sometimes be very busy close to kick-off, so be sure to get those predictions in early. Once you have added in the scores for each game, you must ensure you click submit and then cross your fingers and watch the action ensue. Players will also be asked to predict a time for the first goal to be scored, with this being used in a tiebreaker situation. This covers if it is needed to be used in order to determine a winner, if multiple players having predicted all six scores correctly. That is also used for the winners of the competition that are in place weekly, monthly and across the entire season.
What has continued to prove popular about the Super 6 is that all people can get involved for free. Then even if you do not know much about football, then you can guess and still have the opportunity at winning some life changing money.
What can be won on the Super 6?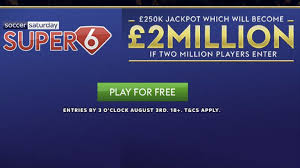 If players correctly predict all six scores on select matches, then they have the chance to win an incredible £250,000. This is based on whether there are other winners on the same round of predictions. If there are no players who predict six correct scores, then a £5,000 guaranteed prize is in place for the person who predicted the highest score of the round. Super 6 can also be used to create your own personalised leagues with friends, where you can put in a pot of money to be given to the winner come the end of the season. This will be shown on a leader board, which can be accessed each week.
This life changing money can be won for free and also provides significantly better odds than winning the lottery. It is a must for both football fans and non-sport fans each week, as the opportunity continues with some serious cash prizes.
The Form Guide
There is so much to consider when looking at the form guide, from points, goals and facts. These all help to shape predictions being made for players. Form always plays a key role and the top sides are often backed for victory, even more so when at home.  When accessing the Super 6 non UK Casino site, you can also pick up all the information you need, such as form in the last six games for each side. These can be viewed on a game-specific bases, along with predictions from what other players have made. You should utilise these statistics available, when making your predictions.
Make it part of your routine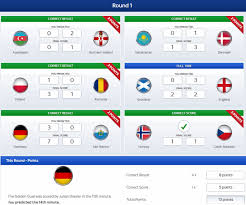 Each week, many will realise they have missed the deadlines for their Super 6 predictions and missed the chance to win big. This is why you should make sure that it is part of your regular routine each week, for checking and inputting your selections. Whether this be done on a lunch break over the working week or early in the morning on Saturday before kick-off. The earlier the predictions are added, means you can also go back and change them closer to kick-off, once you have details on line-ups for matches. To avoid any chances of missing the deadline, you can download the app and turn on notifications, so you can do your selections easily on the go.
Bragging rights over Friends
As mentioned, you can create a Super 6 league with your friends and look for bragging rights come the end of the season. This can be done with friends, colleagues and family, through creating private leagues to see who makes the most successful predictions and has the superior football knowledge. Like many other similar predictions game, it heats up once the rounds continue to come around thick and fast. This means it quickly becomes who is the most consistent player or who can occasionally hit big point scores. It is a free game that can provide great fun amongst friends and always adds excitement to group chats on weekends and evenings. Can you come out on top with the bragging rights over friends?
How do I know if I won super6?
It does look to be a very tough prize to win but it has already been achieved on many occasions, so is always worth getting involved. Back in June of 2020 for example saw three winners land the jackpot prize, which meant they shared the funds, winning £83,000 each after the Golden Goal rule. Nine players have correctly predicted all six score lines, with only three of them selecting the seventh minute for the Golden goal, which meant they were the winners of the prize.
Super 6 round summary
Tottenham 2-0 West Ham
Manchester Utd 3-0 Sheffield Utd
Norwich 0-1 Everton
Wolves 1-0 Bournemouth
Newcastle 1-1 Aston Villa
Liverpool 4-0 Crystal Palace
That meant it was the sixth time over the 2019/20 season that the Super 6 jackpot was won, with £1.5 million being given away in prizes. This shows the knowledge base of Super 6 players and further shows that this prize can be won, so it is always worth getting involved in this popular free football prediction game each week.
Super 6 Extra
Occasionally, there are additional games that take place. An example being the Super 6 extra, which asks six questions across one match. This will offer players the chance to win £5,000 for free! The clash between Manchester United and Arsenal was the recent example of this, which took place on a blockbuster Super Sunday. It meant players could scoop the jackpot by answering six questions and was yet another reason for players to continue to get involved with the growing Super 6 each week. A tiebreaker was also offered with this game and was chosen with players having to predict the possession statistic come the end of the game.
Can you predict the full-time score?
Can you predict the half-time score?
Who will score the first goal?
Who will receive the first card?
How many corners will be taken?
Who will receive the Man of the Match award?
Frequently asked questions when it comes to the Super 6
What is the Super 6?
This is a free to enter footballing tipping game from SkySports super6. The competition is held every week, usually taking place on Saturday's. This gives players the chance at winning some life changing prizes.
How do you play Super 6?
The Super 6 continues to be a very easy game to play but so when it comes to winning. The key aim of the game is to correctly predict six score lines on the different games that are set each week. If you do so, you then win the jackpot, with other prizes available for runners-up.
What can be won by playing the Super 6?
This is the biggest free game available for UK residents. The Jackpot has changed over time, with some cases seeing £1 million on offer. However, in general it usually stands at £250,000 on offer each week, with runners-up taking home prizes of around £1000.
Is the Super 6 free to play?
Yes, the Super is free to enter, and you would not have to deposit into your Skybet account in order to get involved. You will never be required to do so or to withdraw any winnings if you are lucky enough to pick up any of the weekly prizes.
Can the Super 6 be played Abroad?
If you go on holiday, then, unfortunately, it will not be possible to play the Super 6. It is only open for residents of the UK, Ireland, Gibraltar and the Channel Islands. This means that if you are outside of these areas, then you will be blocked from accessing the Super 6 site from Skybet.
Super 6 App
Where can we download this app?
Super 6 App is an App where you can play and earn and it is free to play and players have the chance to win weekly prizes guaranteed . Super 6 App is available at Google play store and App Store. Users can easily download it via play and app store .But the question raised: Is it available at every place?The answer is No Super 6 app is only available (officially) in the UK except Washington, Ireland, Channel Island and Gibraltar. You will be blocked from logging in and playing Super 6 App if you travel outside these countries.
The popularity of Super 6 App is shown by it's high Ranking in Google App store. After 18 or 24 months you will see super cycle coming up globally. A quick,simple and fun experience is offered by Super 6 App.
Features of Super 6 App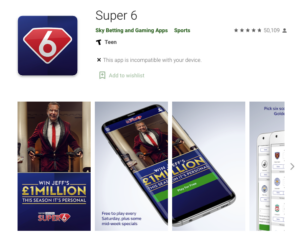 The first super 6 millionaire thought 'it was a joke' when she heard that she landed the bumper payout. But Grace Berry soon realized that her super 6 predictions are enough to claim the prize.Super 6 App is brought to us by Hestview Limited and it is a part of the Sky Betting and Gaming Group. Following are the features of Super 6 App:
You will get 6 correct scores for the chance to win.
You can create a league to compete against family and friends.(you can also play it with family)
For 20/21 session, a pundit should be added to your league and see how your mates fare against the experts.
It is a free football prediction and you can win upto $250,000 prize.
PS: This app is not associated with Google App store or play store.
Advantages of Super 6 App
Now the question raised: Why should you use the super 6 App?It is a great app with a clear and simple interface. You can easily navigate and find friends and can create your own leagues. Following are the advantages of Super 6 App:
Make sports prediction by using Super 6 App
Awarding, acceptance ,use or misuse of any prize,sponsorship or marketing benefits are provided under it.
A winning Banker Wager charged a 5 percent commission, creating a house.
And one thing I like most about Super 6 App is that it is easy and free to play and join.
It offers you huge reward and can merely change your life.
You can enter,view and edit your predictions.
Private leagues and tables can be created through it.
You can also share your predictions.
How to use the App for beginners?
With many advantages, it is also easy to use for beginners. Following are the steps that you should follow to win.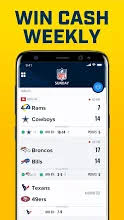 First head into super 6 App.
Prediction should be entered in Super 6 Applications.
Golden Goal prediction should be entered into it.
Click 'Submit My Entry' to confirm your predictions.
Note: $10 stake will be shown after selecting Super 6 selections,you will be given the opportunity to place a bet on those outcomes.There are 7 points Super 6 Application has , First2 points for correct result. Secondly, 5 points for a correct scoreline. The Golden Goal tiebreaker is used to determine the winner of the guaranteed weekly, monthly and season competitions for people who have the same total points, number of correct scores and correct results. You can also view previous round results through it. Bet seamlessly on your super 6 predictions. Beginners also have a question how to win via using Super 6 App? During the relevant week six fixture must be completed in order to get the weekly prize.The winner will be choosed on Golden Goal predictions if two or more players have same points.
Super6 Conclusion
In simple words, Super 6 App which gives you the chance to play and win.
It has aout 4.7 star ratings and has more than 100,000 installations. It is listed as one of the best sports app. Super 6 App usually involves 1 to 2 rounds (0-7 team has two rounds) and (10-12 has two rounds). At last, I think you should also try this game to change your life. Indeed, if you win using super 6 App it will be a game changer for you and your family.