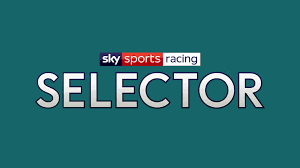 ⭐️⭐️⭐️⭐️⭐️ 5/5
Written by Ian McMillin
Updated November 15
What is Sky Sports Selector?
Sky Sports Selector is a weekly online free betting competion held by Skybet. The object of the game is to choose seven horses out sevn given races, and hope that all your hoses come first. The Sky sports selector is free to play game offered by Sky Bet which like ITV pick 7 focuses on horse racing. The competition runs a jackpot prize on Mondays and Fridays and requires players to select seven horses from the chosen race cards and hope they all win.
The prize pot for the Sky Sports selector game starts at £1000. The game takes place every Monday and Friday. If the prize pot is not won, then the pot keeps rolling over till it does. Now consdiering you need seven winning horses to win, as you can imagine the pot can roll over quite a number of times.
How much can I be playing at Sky Sports Selector?
The sky sports racing selector is a free competition in which players can win jackpot prizes of £1000 on Mondays and Fridays. Although not as great in comparison with the likes of ITV pick 7, Sky sports super 6 and Footie5 by the pools, this is a shot to nothing which takes very little time to enter.
Furthermore, where there is a cross over with the races in ITV's pick 7, you could hedge your bets by mixing the 7 horses that you choose to increase your odds of winning something.
🏆 🏆 🏆 🏆 🏆 🏆 🏆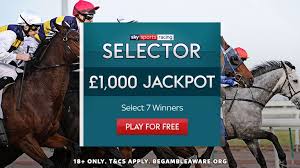 On completion of a Sky Sports Racing Selector round where no player has selected all possible winners, the best performing player will receive £100 cash. The best performing player is determined by having picked the most winners and placed horses in the round.
Is Sky Sports Skanner Free?
Sky sports selector is free to play and its pretty easy to get involved. You only need to be 18 or older and live in the UK, Channel Islands or Isle of Man. The competition can be entered from the comfort of your own home on a laptop, or on a mobile or tablet device while watching the races with friends at the pub or a racetrack.
To enter Sky Sports Racing Selector, you need to register with Sky Games click on 'Log In / Register', complete your personal details and choose a User ID and PIN. If you have a Sky Games or Sky Bet account, you can use your existing ID and PIN for a quicker and easier way to play Sky Sports Racing Selector. Additionally, you will be able to use the same account for Sky Vegas, Sky Poker, Sky Bingo, Sky Casino, Super 6 and Sky Sports Fantasy Football.
How can I play at Sky Sports Selector?
The object of the Sky Sports Selector game is very simple. Every Monday and Friday Sky Sports will pick seven different UK horse races.
All you need to do is simply open a Skybet account, and head over to the selector game. Pick seven horses that you think are in with a chance of winning, and hope they all come first.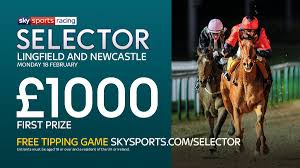 There is a simple and clear method to playing the game and putting yourself in with a chance of coming away with £1,000. To start, players must select one horse from each of the seven Sky Sports Racing Selector races and an answer to the tiebreaker question before submitting an entry.
The tie-break question is: 'What will be the winning distance of the first Sky Sports Racing Selector race in that game round?'
If there are two or more people that have picked all of the available winners of the races in a game round, then the prize winner will be the one who has come closest with their answer to the tie-break question. If two or more players have jointly-picked the closest to the tie-break question then the competition prize will be shared equally amongst those players.
There is a £100 consolation prize to the player who selects all the available winners but misses out on the jackpot prize due to the tie-breaker. In the event of multiple players missing out for this particular reason, the £100 consolation prize shall be awarded to player with the earliest entry out of those people.
Sky Sports Selector by SkyBet is 100% free. You will never have to make any kind of deposit to withdraw you winnings should you win. This is basically a free to enter, no deposit needed competition ran by the Sky brand.
Sign Up Process
The only thing you need to do to enter Sky Sports Racing Selector is to register with Sky Games. Just click on 'Log In/Register' and complete your personal details in order to choose a User ID and PIN.
If you already have an account with Sky Games or Sky Bet, you simply need to use your existing User ID and PIN for an easier and quicker way to play Sky Sports Racing Selector.
This also means you can utilise these details in order to play free-to-play products such as Super 6, Sky Sports Fantasy Football, Fantasy Six-a-Side, Sky Vegas, Sky Poker, Sky Bingo and Sky Casino.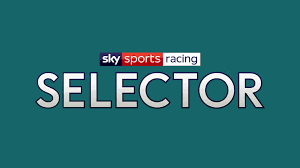 Conclusion
Similar to ITV's pick 7, super 6 and ThePools.com Footie5 you are going to require a serious amount of luck to predict multiple outcomes. However, what do you expect for free? Consolation prizes are available to give players an increased chance of winning at least something and those who predict all 7 will take away a grand. In comparison with ITV's pick 7, this deal is inferior in as much that there is no roll over opportunity to raise the prize fund.
With a lower pot that ITVs pick 7 or Sky Bets Super 6, and worse odds than Footie 5 you would be forgiven for thinking that this game is not worth playing. Far from it. Treat this game as another shot to nothing, along with all of the other free to play games and, you never know, you might just win.